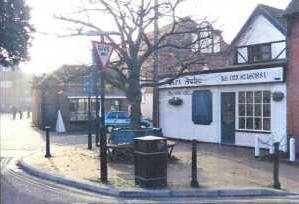 Art Ache Gallery is both shop and working studio located behind Waitrose and
the Bear Hotel in Havant.

It is both a Listed Building and in a Conservation Area.


Open Monday to Saturday (except Wednesday)
10am - 4pm.



A large and varied selection of original works by artists, in all styles and media.

Paintings by commission: portrait wedding/brides, commemorative, favourite pets.

Airbrushed racing/vintage/classic vehicles etc.

Browse, buy, exhibit your own work, or just chat with fellow Artists!


Exhibitions for 2007:

February 2nd - February 20th 2007:
Elegant Deco Lines
Kelly Delaney

February 23rd - March 9th 2007:
A Brush with 2006
Andy Housego

March 16th - March 30th 2007:
Nikki Figgins

April 13th - April 27th 2007:
Jane Salter

June 2007 (dates to be fixed)
Barbara Bond

September 28th - October 13th 2007:
Tony Lush

Private Views for all exhibitions above are held from 5 - 8pm
on first day/date given, all welcome.