Brian Irving
"For other work by this Artist please click on the image below"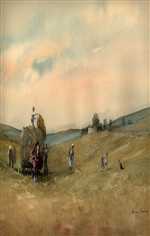 Brian Irving discovered his passion for painting in middle life. He comes from farming stock and a life style change gave him the opportunity to examine his early experience and love of nature in watercolour.
Brian farmed in Wharfedale during the transition from horse and hand labour to more modern farming methods and many of his paintings are evocative of that period. Though farming no longer, he has never left Wharfedale and still lives amid the sheep, fells, drystone walls and the farming figures which are his trademark.

If you are interested in viewing more of Brian Irving's work or would like more information, including prices, please email us or phone on the number below.