E Charles Simpson
"For other work by this Artist please click on the image below"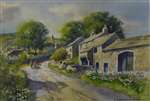 Charles Simpson was born in Leeds, and started painting after meeting the late 'Owen Bowen' in the 1930's.

He worked for the Wool Industries Research Association until 1970, became a full-time painter and moved to Coverdale - Wensleydale where he worked from his own gallery until 1988.

Now living in Ilkley, Wharfedale, Charles has had seven one man shows to date and at one time was a regular exhibitor with the Royal Institute of Painters in Watercolours, the New English Art Club, and Britain in Watercolour among others.

He is strictly an 'on-the-spot' painter (when weather permits). His work is held in a number of private collections the world over, and reflects his greatest passion - walking and climbing in mountain and wilderness areas, including Canada and Majorca.

Charles is a founder member of the Yorkshire Watercolour Society.

If you are interested in viewing more of Charles Simpson's work or would like more information, including prices, please email or phone on the number below.