David Greenwood
"For other work by this Artist please click on the image below"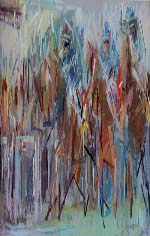 David Greenwood is one of a number of local artists who have part of the Its Art gallery dedicated to his pictures. David works in watercolour, pastel and oils. His work provides a consistently intruiging interpretation to a variety of subjects.
Shown to the left is an examples of David's stunning soft pastels which convey the thrills, the action and the emotion of the horse racing scene and the wonderful animals in their moments of glory.

If you are interested in viewing more of David Greenwood's work or would like more information, including prices, please email or phone on the number below.