Diane Thornton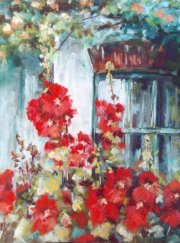 Diane was born in Liverpool in 1949. She moved to York with her family in 1963. Married with two children.
She studied Art and Ceramics at York and Harrogate. Now works from her Studio in Skelton.
Her inspiration comes from her adopted North Yorkshire Countryside be it the East Coast, the Moors or the magnificent City of York. In bad weather a still life will be set up and of course there is always one of Diane's four cats ready to pose.
Her passionate love of colour sparks the need to paint and find a balance between reality and abstraction. Working in most media, her particular favourite is soft pastels, the immediateness of the pastel gives her the greatest pleasure. Following close behind are mixed media, water colour, Gouachee, acrylic, oil pastel, oil and clay. She has exhibited in various exhibitions in the North of England. Her work is in private collections throughout the world.