Fabian Perez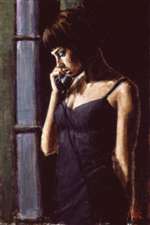 Born in 1967, Fabian grew up outside Buenos Aires in a turbulent world of political upheaval during the post-Peron military regime. Such a childhood could not fail to impact on every area of his life including his artistic ethos.

At the age of 16 Fabian was faced with the loss of his mother and 3 years later the loss of his father. The sadness and despair he experienced left him confused and searching for answers. In 1984 he had crossed paths with the greatest inspiration of his life - Sensei Oscar - who later became his teacher, master, close friend, and father figure.

Then in 1987 Fabian set off on a journey that was to last until the the present day. After six months in Rio he took up residence in Padova, near Venice, where he stayed for seven years, studying with Oscar and painting daily before moving on to Okinawa, Japan. He finally decided to experience a different side of life in the USA, and in Los Angeles he worked as a busboy and a model, and ran odd jobs for Universal Studios.


Fabian wishes not to categorise his style as he does not want to limit himself or his work Inspired by what is known in martial arts as the Muga (empty mind), Fabian finds himself in this almost meditative state of mind when he is at work, and the purity of his creativity flows. He now resides in Beverly Hills, California, where he paints, plays soccer, trains and teaches martial arts to close friends. He still travels the world for inspiration.