Irena Fraczec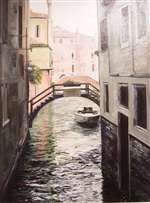 Born in 1954 of Polish parents, Irena studied textile design at Leeds University in the early 1970's. Initial career opportunities moved her into the clothing industry, and this allowed her to travel extensively. Recently, and fed by the many colourful sights abroad, she felt the urge to pick up her brushes again and put down the moments that seemed so special to her.
Her subject matter is diverse and it can dart from country to country, or be as close to home as the stream beside her house.
Rather than be overly sentimental or whimsical, she prefers her work to be solid and with that comes a sense of openness in her work – old mixed with new, gainly mixed with ungainly, skill mixed with naivety – an honesty that has universal appeal.
Commissions available.