Laura Robinson
"For other work by this Artist please click on the image below"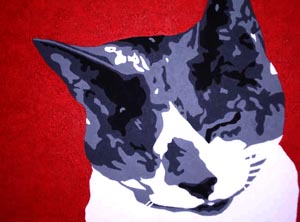 Laura began painting a few years ago when she wanted a modern bright picture for her kitchen that she had recently rennovated. After looking at lots of pictures Laura decided she wanted to make it more personal instead of just any abstract image.

Laura knew what sort of styles she liked - pop art, monochrome, but also bright and bold at the same time. This is where Poki her cat came in.
Laura has been an animal lover for years and decided that Poki her cat would be a great subject for a painting. She is so pleased she did this as now she has a fantastic personal reminder of Poki who sadly is no longer with us.
The painting depicts Poki's laid back personality, looks great on her kitchen wall and always proves a talking point with Laura's dinner guests.
If you are interested in viewing more of Laura Robinson's work or would like more information, including prices, please email her or phone on the number below.