Artist Lucia Smith
"For other work by this Artist please click on the image below"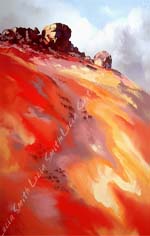 Having spent most of her life in Wharfedale, Lucia has always been passionate about the Yorkshire moors and skies, depicting their endless shapes and moods in varieties of colours and palettes.
Often using mixed media, but with a predominance of vibrant colour from soft pastel, Lucia aims for the up-lifting and sublime: 'Although firmly based in reality, my work is now moving in a more abstract direction as I challenge the contours of the land and those of the sky. Above all I aim to present views full of movement and colour : scenes to be watched.'
These soft pastel landscapes are also available in very limited print editions.

If you are interested in viewing more of Lucia Smith's work or would like more information, including prices, please email or phone on the number below.