Mark Hockey
"For other work by this Artist please click on the image below"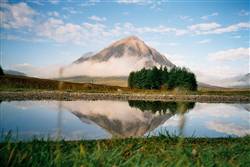 A Mountaineer/Photographer with not just a fierce passion but also a degree of humility for the mountain scene. Mark's unique 'pre digital era' collection of images stems from an early introduction to the Alps and the Scottish Hills by his parents.
After leaving school, a secure and prosperous chartered accountancy career in urban Leeds was sensibly scrapped within a year. Choosing instead to work as a chef enabled Mark to live amongst some of Britain's most photogenic locations. After the drudgery of commuting and office life, three years living and working at the celebrated 'Clacharg Inn' in Glencoe, Scotland sharpened his appetite.
Be it either testing his nerve and skills to the limit during hazardous ice climbs on Ben Nevis or mid summer wanders in remote and beautiful parts of Scotland.
If you are interested in viewing more of Mark Hockey's work or would like more information, including prices, please email us or phone on the number below.