Paul Mcrae
"For other work by this Artist please click on the image below"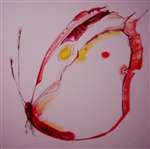 Paul McRae was born in 1963 in London. From a young age he had an interest in art. None the less, feeling pressure to emulate his Scottish father , he began studying computer science at Essex University in 1982. By Christmas he had made the bold decision to abandon his computer studies and become an artist. Initially Paul attended night school in Edinburgh and then gained a place on the Bradford foundation course (previously attended by David Hockney).

On completion of this course, Paul enrolled in Sunderland College, being impressed with the painting department there. At this time Paul became interested in Buddhist meditation, regularly attending a monastery just north in Harnham. Graduating from Sunderland in 1987 Paul realised he would have to be able to earn a living to support his artistic endeavours. He started studying accountancy and had passed half the exams necessary to become an accountancy technician when he abandoned this course and became ordained as a novice Buddhist monk, spending time at the Amaravati Buddhist centre, Hemel Hempstead and in the jungles of northeast Thailand.

Deciding he had to return to his painting, he left the order in Christmas 1990. Paul began painting rustic images of English cottages circa 1993, putting aside for the moment his fascination with the flowers and butterflies of the South East Asian jungle. He also began painting images of beach scenes and impressionistic imagery of poppies and cornflowers, a gradual movement toward the art he now thrives on.

For 2 or 3 years Paul painted vibrant canvases of poppies and flowers which sold extremely well. They reflecting the deep mystery and intensity of spirit Paul had experienced in the jungle. In time however, this inner drive and energy abandoned him and he felt his flowers had become merely "bleak and appalling". Yet, after 3 years of dark intensity he started painting images utterly opposite in spirit, the background white instead of black, the light shining through soft feline petals, works which were amazingly unconnected and different from what had came before.

Paul thrives on the uncertainty of being an artist. He believes the so-called security of a more conventional existence is illusory and likes to live as the jungle creatures, day to day responding creatively to life's uncertainties.

If you are interested in viewing more of Paul Mcrae's work or would like more information, including prices, please email or phone on the number below.