Robert Wyatt
"For other work by this Artist please click on the image below"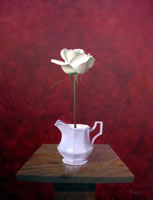 Robert Wyatt a self taught painter Robert works exclusively in oils, using techniques pioneered by Renaissance and Flemish Masters, but with a contemporary and unique approach.
Robert's work is the result of a painstaking process which requires accurate draughtmanship and carefully applied layers of translucent oil paint glazes. The result is a lustrous, almost luminous finished piece.
Robert Wyatt's exhibition work includes Leeds City Art Gallery and the prestigious Mall Gallery in London. In addition to gallery pieces, Robert also completes a limited number of commissioned paintings, schedule permitting.

If you are interested in viewing more of Robert Wyatt's work or would like more information, including prices, please email or phone on the number below.