Ron Cowels
"For other work by this Artist please click on the image below"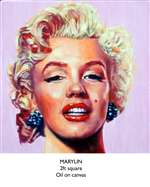 I am a passionate man. My paintings express this. I explore ceaselessly seeking new vehicles for my vision. I push the boundaries while staying within them so what I paint is accessible and yet it evolves continuously.

I have undertaken many portrait commissions one of which is on permanent display at Castle Howard.

If you are interested in viewing more of Ron Cowel's work or would like more information, including prices, please email or phone on the number below.