Rossana O'Brien
"For other work by this Artist please click on the image below"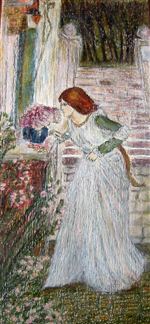 I HOPE YOU ENJOY VIEWING MY ART.

Some of you might recognise it as the style of the 'pre raphaelite' artists of the nineteenth century.
A couple of my pieces are influenced by these artists.

The others are totally inspired by their beautiful paintings. My first introduction to their work was when I saw for the first time 'the lady of shalott' by 'John William Waterhouse'. I was completely taken aback by the beauty and atmosphere of the painting.

I was ten years old at the time, and I remember thinking, that one day I would paint my own version of her, I hope you like it.
I absolutely adore the style and design of 'William Morris', so I like to use inspiration from his work and do my best to add a touch of his genious to my art.
The pre raphaelite artists had a real appreciation of beauty in the human form as well as in nature. They had an attention to deatail to which in my oppinion will astound anyone who has a love of art and beauty.
The artists were also very much inspired by the magic of romance, something I feel is lacking today in our fast track world. So I feel that part of my mission on earth this time is to revive an interest in 'pre raphaelite' art, and let the beauty and romantic atmosphere of their work send you into a romantic daydream, that will carry you through the day in a peaceful reverie.
Some of my peices are for sale, and prints of them all are available.