Sherree Valantine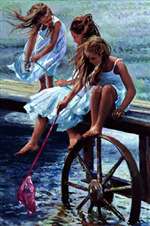 Sherree Valantine is a Rochdale born and based artist. He spent his school days at Bury Grammar School, where he excelled in art, the only class in which he didn't want the bell to ring.
After leaving school he went on to study Art and Design where he specialised in Textile Design, which he hoped would link into the family wallpaper and fabric business.
After several years working in the business, he feels it has given him a good insight into what people desire and appreciate in their homes.
Now a full time artist, he finds his inspiration for his mixed media paintings both in abstract and floral contempary work from interior fashion and finds the importance of colour vital in making it easier for people to find something for their home environment. This is also more easily accessible through his commissioned work.