Tony Holahan
"For other work by this Artist please click on the image below"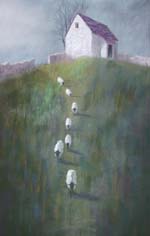 Tony Holahan Works in Watercolour & Pastel
Tony lives in Bradford and has been painting in watercolours and pastel for some years. Although always interested in drawing, has had no formal training and is mainly self taught.
His work is rarely topographical as he is usually striving to capture the feeling and atmosphere of an area, rather than an exact replica of a particular view
His subjects are therefore usually through imagination and his own feelings for an area, rather than from life.
His earlier works were mainly of wildlife subjects and birds of prey in particular and although his subjects are now many and varied (from landscapes to jazz bands!) he still returns from time to time to his earlier theme of birds in their natural environment.

If you are interested in viewing more of Tony Holahan's work or would like more information, including prices, please email or phone on the number below.