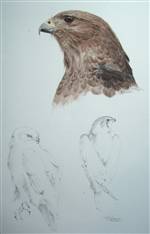 Trevor was born into a sporting family in Bradford, West Yorkshire. Continuing the family tradition, I first played Rugby Union and then professional Rugby League throughout the 60's and 70's.
In complete contrast to my sporting interests I have always been interested in art, eventually studying at the Wakefield College of Art. After my college days I first worked as a carpet designer before becoming a Fine Art Artist and Illustrator with the greeting card publishers W N Sharpe in Bradford.
My career as an Artist and Illustrator took me to various parts of the country but I am now settled back in my beloved home county of Yorkshire.
I am married with two daughters, both now living abroad, the eldest lives in Arizona USA and the youngest in Norway. Through my trips to these countries I have found a tremendous inspiration for the local scenery, but my overiding passion has always been for the English scenery, landscapes and coastal studies which are my specialties.
I have always enjoyed music, especially Country, and I play the guitar to entertain my family and friends.
As you may note I am a man of many interests, one of which is the pursuit of the ancient sport of falconry. I have been a falconer for 20 years and never cease to marvel at the flight of these birds of prey. Amongst my illustrations you will find quite a few studies of these magnificent birds.
As I am now nearing retirement, I feel that I can at last devote more time to my painting and say
" To hell with the work and the gardening! !"
I enjoy undertaking Art Commissions, and I have many satisfied customers..
If you are interested in viewing more of Trevor Ward's work or would like more information, including prices, please email us or phone on the number below.